Video not specified. Please select one to display.
"Providing access to affordable clothing and household goods through the generosity of our community and the power of our volunteers"
Visit our website for more information https://hopeonthesquare.org/
Our "Hope on the Square" Facebook page is updated daily with sales and specials.
Julie Lucas - Manager
931-729-8446
407 West Public Square
Centerville, TN 37033
More photos from Hope On The Square are located in the Photo Gallery on this website.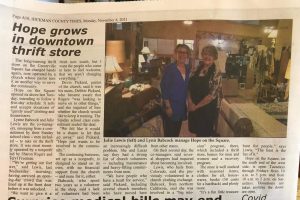 IT'S ALL ABOUT COMMUNITY! We love our volunteers. They're what make this community store such a success. Come share your love with our community as well. There's a volunteer spot just waiting for you, and you'll have so much fun too! Check out the captions on each photo to find out what these helpers do.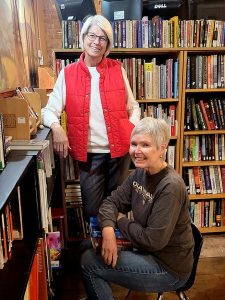 MaryJo and Dale are our library assistants. They work together sorting books and creating an appealing area for y'all to find just what you might be looking for.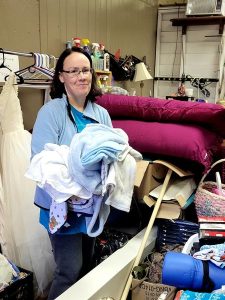 Brittney sorts clothing in our processing room prepping items for sale to our clothing rack floor. She loves spending a few hours a week, while her kids are in school, to give us a helping hand.
Miss Kristy sorts hangers and organizes our laundry room area, keeping it tidy and in good working condition. She's the very best at what she does. We are so thankful for her commitment to our team.
Aww...this little sweetheart is the winner of our Christmas Open House Raffle prize. Her mama came out for the town square Christmas tree lighting ceremony several days back, shopped in our store and entered her name for our little girls "pink bike" give-away. It's always fun to receive a little Christmas joy before Santa visits on Christmas eve. And, as you can see Aubrey sure thinks so!